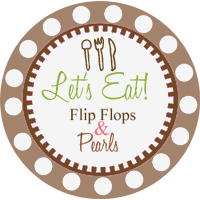 I am linking up with the lovely Daphne at Flip Flops and Pearls
I was in the mood for some ice cream and picked up the ingredients for some vanilla and it morphed into something else.
Peppermint Chocolate Chip Ice Cream
1 c. milk
3/4 c. granulated sugar
2 c. heavy cream
1 tsp vanilla extract
1 tsp. peppermint extract
chocolate chips
peppermint sticks
In a medium bowl, use a hand mixer or a whisk to combine the milk and granulated sugar until the sugar is dissolved, about 1-2 minutes on low speed. Stir in the heavy cream and vanilla and peppermint extract to taste. Turn machine on, pour mixture into freezer bowl through ingredient spout and let mix until thickened, about 25-30 minutes.
Crush the soft peppermint sticks while the ice cream is mixing.
In the last 5 minutes add the chocolate chips and crushed peppermint sticks.
I didn't think about adding the peppermint sticks until it was halfway done so no pictures until the end.
I used skim milk and half-n-half to cut back on the calories.
I had a bowl tonight as a reward for exercising during each commercial break of Grey's.