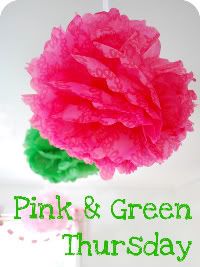 It has been a while since I joined Trish over at Pink Preppy Lilly Lover for her Pink & Green Thursday blog hop. I have been out of ideas. When i saw an ad for Sherwin Williams paint in my magazines it reminded me of how much I am loving their current ad campaign.
Whoever came up with the idea of using paint chips to create pictures is a genius.
And I love that they left the name of the colors in the picture too.
A vase of flowers pretty enough to set on any table in your home.
Ice Cream sundae good enough to eat.
Do y'all have any ad campaigns that make you smile?
all pictures found on Google