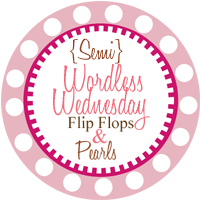 I am linking up with the lovely Daphne over at Flip Flops and Pearls.
I thought I would show off the additions to my closet.
I finally took an item off my wish list and picked up this watch.
I found this purse at a gift shop in Podunk last month. I went in looking for a wedding gift for my cousin. No worries I got her present too. This can be used as a clutch, wristlet or to my surprise a strap was in it too.
I had an urge to shop last week. So I stopped into Dillard's Friday when I was off and didn't find a thing. My last stop was the racks of clearance shoes. Big mistake as I ran across these. Now I don't know when I will ever wear them. I texted S wanting to know why I would need these thinking she would help talk me out of it. Instead after she saw the pic insisted I needed them. Note to self next time the bestie needs to talk you out of something say that first. HA!!