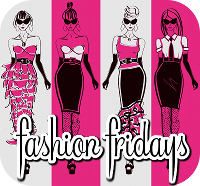 I am joining up with Kori over at Blonde Episodes for her Fashion Fridays series.
The Kentucky Derby will be held on May 7th.
One of the biggest traditions is the big hats ladies wear. I am not into wearing hats but one day if I get to fulfill my dream of attending the Derby I will get one.
So while watching
sit back and drink
A mint julep
And put on a hat
This would be more along the lines of what I could handle.
Of course you could go outlandish like the next two.
All to see the winning horse
all images found on bing