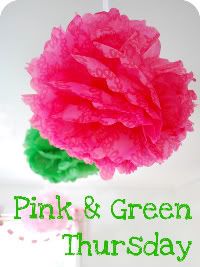 I decided to join Trish over at Pink Preppy Lilly Lover for Pink & Green Thursday again. This weeks theme, workout gear. All my workouts have my mind on cute gear.
A cute gym bag is a must.
I don't know about anyone else but I need my tunes to workout.
A cute outfit and exercise ball.
Sneakers
Weights & kettlebell
Even the youngest ones can enjoy exercise.
Happy Thursday!!!!
All but the last picture were found on google